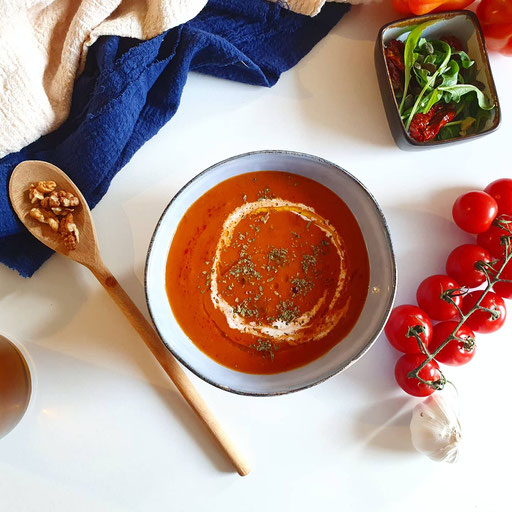 Red pesto soup!
Every time when the days grow colder, I have to share a dish that makes you feel warm again!🍁🍂 A delicious thick soup made with red pesto is a perfect solution to get a warm feeling in your stomach.
Ingredients⠀
• 500 grams ripe tomatoes ⠀
• 2 Red bell pepers⠀
• 1 Courgette (Zuchinni)⠀
• 1 Carrot⠀
• 1 Onion⠀
• 4-5 Garlic Cloves⠀
• 1/3 cup Olive Oil⠀
• 1 1/2 teaspoon Salt divided⠀
• 2 teaspoon tomato puree⠀
• Vegetable Stock to taste⠀
• Thyme⠀
• Rosemary ⠀
• Oregano⠀
⠀
Red Pesto (blend all the ingredients in your mixer)⠀
• 75 gram of fresh basil⠀
• 75 gram of arugula, ⠀
• 200 gram of sun-dried tomatoes, ⠀
• 200 gram roast red peper (paprika)⠀
• 50 gram of Parmesan grated or Reypenaar cheese ⠀
• Pinenuts, ⠀
• Garlic minced, ⠀
• Salt to taste⠀
• Black peper to taste⠀
• 50 ml olive oil⠀
• Some water if the pesto is too thick.⠀
Preparation:
-Cut the carrot, courgette(zuchinni), paprika (bell peper) in small pieces and roast them for 18-20 min in a preheated oven.⠀
-Heat the oil in a large pan, then add the chopped onions, garlic with the tomato puree and soften for a few mins over a low heat. 
-Add tomatoes, chopped oregano, thym and rosemary, then bring to a simmer. Let the soup simmer for 5-8 mins until the tomatoes have broken down a little. ⠀
-Mean while you can blend al the ingredients for the red pesto and add the pesto to the tomatoes.⠀
-Now you can add the roasted oven vegetables.After that you can add some water with vegetable stock and let it cook until al the vegetables are soft. ⠀
-Blend with a stick blender. Taste and adjust the seasoning.
-Serve in bowls with 1 tbsp or so of the pesto swirled on top little more soured cream and finish with basil leaves.