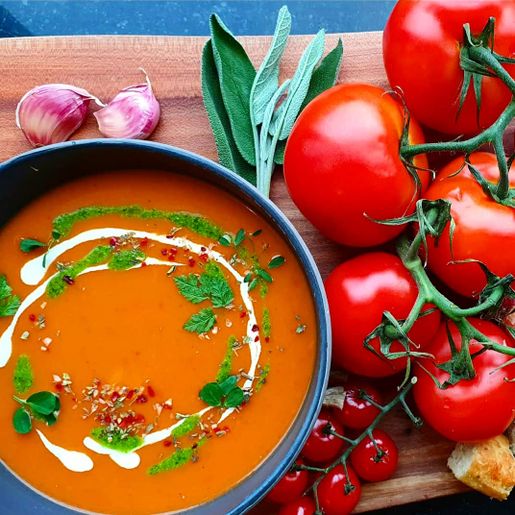 Creamy San Marzano tomato soup!! 
This comforting tomato soup is made with ripe tomatoes in combination of canned San Marzano tomatoes, fresh herbs, carrot, garlic, onion, extra-virgin olive oil and a swirl of pesto and vegan cooking cream! As a side dish I had served warm foccacia and a panzanella salad.
You can find the recipe her below🌱👇🏽
Ingredients⠀
• 500 gram ripe tomatoes 
• 2 canned San Marzano tomatoes 
• 2 teaspoon tomato puree
• 1 Carrot⠀
• 1 Onion⠀
• 4 Garlic Cloves⠀
• 1/3 cup Olive Oil⠀
• 1 1/2 teaspoon Salt 
• Vegetable Stock to taste⠀
• Thyme⠀
• Rosemary ⠀
• Oregano⠀
• Vegan cooking cream (i used Flora professional plant 15% fat)
⠀
Fresh Pesto (blend all the ingredients in your mixer)⠀
• 75 gram of fresh basil⠀
• 100 gram of arugula, ⠀
• 50 gram parsley
• 50 gram of cashewnut or vegancheez
• Pinenuts, ⠀
• Garlic minced, ⠀
• Salt to taste⠀
• Black peper to taste⠀
• 50 ml olive oil⠀
• Some water if the pesto is too thick.⠀
Preperation:
-Heat the oil in a large pan, saute the chopped onions, garlic with the tomato puree and soften for a few mins over a low heat. 
-Add tomatoes, carrot, chopped oregano, thym and rosemary, then bring to a simmer. Let the soup simmer for 5-8 mins until the tomatoes have broken down a little. ⠀
-Mean while you can blend al the ingredients for the pesto and set aside.
-Now you can add some water with vegetable stock, a little bit of the vegan cooking cream and let it cook until al the vegetables are soft. ⠀
-Blend with a stick blender. Taste and adjust the seasoning. Serve in bowls with 1 tbsp or so of the pesto swirled on top, a little bit of vegan cooking cream and finish with basil leaves.
Bon a petite!