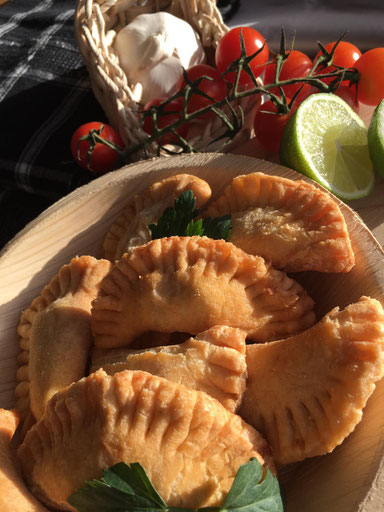 PASTEIS DE ATUM ( TUNA PATTIES )
Also called pastetes de atum.
This is tasty as a snack but also delicious as a side dish with your meal. The dough around the tuna is soft and the filling is full of delicious tuna flavor with a little spice.
400 g tuna (fresh or canned)
80 gram tomato paste.
1 chili pepper, finely chopped.
1 onion, finely chopped.
0,5 garlic toe or  a little bit garlic paste.
Lemon juice.
20 gram celery.
Sunflower oil. 
DOUGH
140 g flour. ( use extra flour on your table to prevent sticking )
1 egg yolk.
2 teaspoons baking powder.
1 Cup of water.
 Tuna, adding flavor.
Poach or bake the fish if necessary and divide it into pieces. Mix the tuna with the chili pepper and the onion, lemon juice, chopped selery, garlic paste and tomato paste.
For the dough. mix the flour and 1 teaspoon of salt with 1 cup of water. Knead the dough. Add the egg yolk, baking powder and 2 teaspoons of oil and knead everything thoroughly. Add some flour if necessary. Let the dough rest for 5 to 10 minutes.
Roll out the dough thinly and cut out circles with cooking rings.
Place the fish filling on the dough over the entire width of the dough. Close the dough over the right width and fold it over the portions of filling and press it with a fork. Repeat this until the filling and the dough have been used up. Fry the pasties in sunflower oil, and after that let them cool and dry on kitchen paper.
The pasties can be served hot or cold.