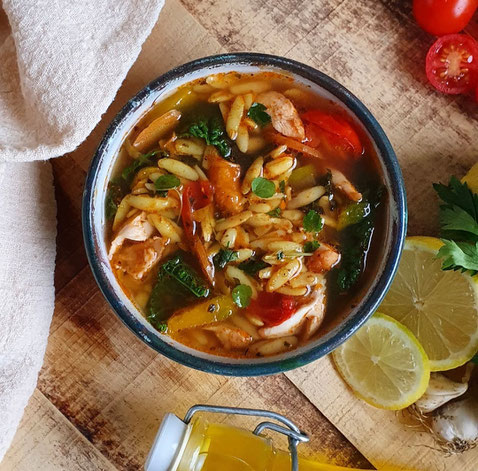 A delicious soup with orzo and sweet chicken with a hint of lime. this bowl is also well filled with vegetables cavalo nero, pumpkin and carrot and peas.
Orzo is a pasta that looks like rice due to its shape. It is also known as Risoni. It is very tasty in this soup, but you can also use it in a salad or for many other dishes.
Here below im sharing my recipe so you can try it out yourself!
Ingredients.
1 tablespoon olive oil
2 teaspoon of tomato puree
2 yellow onions - diced
2 cloves garlic - minced
1/2 Pumpkin -small cubes
2 large carrots - chopped
2 celery stalks - chopped
1 cup frozen peas
2 leafs of Cavalo nero or kale (chopped)
1/2 teaspoon of kurkuma powder
1 teaspoon sea salt
½ teaspoon ground black pepper
¼ teaspoon dried-crushed red pepper(rawit )
1 cup orzo ( risoni)
8 cups chicken broth or vegetable broth
For the chicken marinade:
2 cloves garlic - minced
1/2 teaspoon of Oregano/Italian seasoning
2 lemon - juiced
Apple cider vinegar
Honey
1 kg chicken thighs
1 chicken tight skin for making the broth a bit fatty for the extra taste.
To garnish:
Roasted Cherry tomatoes
Fresh parsley
How to prepare.
Marinade the chicken (at least  6 hours before or one day before)  with:
Olive oil, garlic, black pepper, sea salt, lemon juice, apple cider vinegar, honey, oregano.
1.  Add olive oil to a large soup pot set on medium-high heat. Add the onion with tomato puree keep stirring for about 2 minutes and shortly after that you can add the marinated chicken tights. Keep stirring for about 5-8 minutes.
2.  Now it's time to add the carrots, celery, pumpkin cubes, Italian seasoning, salt, minced garlic, black pepper, and crushed red pepper. Keep stirring for about 4 minutes.
3.    Once boiling, reduce heat to a simmer, cover with a lid.
4.    After 30-45 minutes, you can add the orzo to the pot and stir in the orzo and continue to cook for an additional 15 minutes.
5.     Carefully remove the chicken from the pot.
6. Chop the chicken into small pieces. Return the chicken back to the pot.
together with the frozen peas and continue to cook for an additional 10 minutes.
7.     Season with additional salt and black pepper, to taste, and garnish with fresh chopped parsley or cress ( I used Atsina cress).