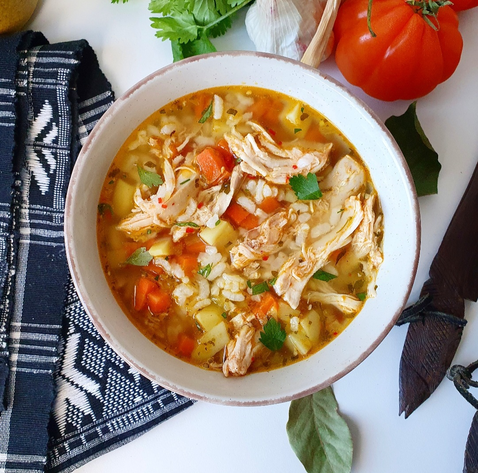 Canja or Canja de Galinha traditional chicken soup that is very popular from the Cape Verdean kitchen. On several social media platforms I share many different dishes from different cultures and cuisines. Yet the cuisine of my own roots remains something I want to delve into even more and learn more about it. It is an interesting cuisine that I would like to share with the world. That's why I'm sharing this delicious Cape Verdean soup packed with delicious vegetables such as potato, carrot and lots of chicken. Canja is not only a popular soup in Cape verde it also known in countries like Brazil and Portugal and It has different recipes and ways of cooking. When I was little and got the flu, my mother always gave me this soup with whole pieces of chicken (with bones). The soup quickly helped me overcome a cold and made me felt strong again.
Ingredients
·       2 tablespoons olive oil
·       1  large onion in small cubes
·       2 garlic cloves minced
·       1 tablespoon of white vinegar 
·       1 lemon (juice)
·       1 teaspoon of paprika 
·       3 bay leaves
·       1 quartered tomato
·       8 Chicken thighs with bone or boneless (what you prefer) 
·       2 cup medium-grain rice rinsed
·       6 cups chicken broth
·       2 vegetable bouillon cubes
·       2 potato peeled and small cubes (brunoise)
·       1  large carrot peeled and small cubes (brunoise)
·       Salt to taste 
·       Ground white pepper to taste
·       Fresh celery, chopped       
·       Fresh parsley chopped
In a large bowl Wash the chicken tighs with lemon juice, vinegar and cold water.
After washing the chicken tighs, remove the water and season the chicken tighs well with paprika, parsley, celery, lemon, garlic, salt, olive oil.
For better results marinate the chicken for a few hours or overnight in the refrigerator in a bowl in a bowl covered with a plate or plastic foil
Heat a large pot with olive oil add the marinated chicken and keep stirring for about 5-7 minutes after that you can add the onions with garlic, bayleaves and tomato and saute for 2-3 minutes.
Now cover the chicken with water with bouillon cubes.
A tip from the chef, do you have remains of veggies like the ends of the root and stems of herbs such as celery and parsley or even chicken bones.. don't throw them away! toss it into the soup to infuse extra flavor. This way you need less salt and bouillon/broth cubes.
Bring the soup to boil and reduce the heat lower.
After 40 minutes you can remove the chicken and set apart in a bowl to cool it of a bit.
With two forks or with your hands (with gloves) you need to shred the chicken tighs.
After the chicken is shredded you can put it back in the broth together with the small carrot cubes. Simmer for about 30 minutes.
Add the potatoes to the canja and let it simmer for another 20 minutes.
Personally I like a spicy soup so I added malagueta pepper.
Remove the pan conja from the heat and divide the soup into bowls and enjoy