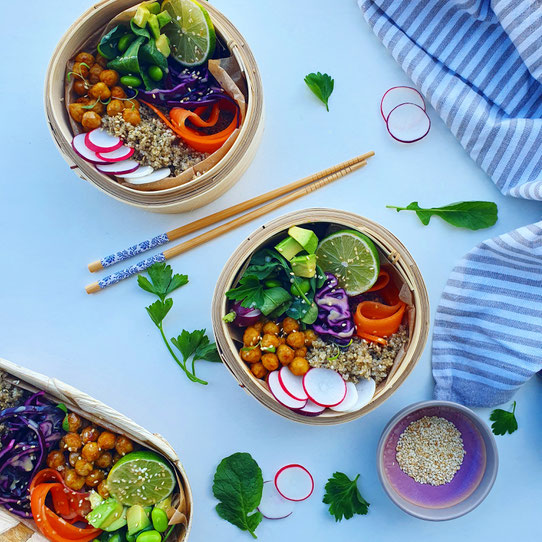 Quinoa power bowl!
⠀
Look no further for a healthy lunch dish, because i have already found one for you;) It is easy to make and is full of vitamins and protein! This fresh summer salad is perfect for a lunch in the garden or on your balcony but also delicious as a light meal for the evening.
⠀
I have a whole collection of steam baskets. Normally I steam my vegetables and gyoza in those baskets but now I have used them differently.
I put baking paper in it, to use it as salad bowls. works fine!
The recipe can be found below!  4p.p⠀
⠀
Ingredients:⠀
150 grams of quinoa (The organic quinoa i used is from Holland)
6 pieces radishes of mixed colors, white, red and purple.⠀
300 grams of Chickpeas⠀
1 piece Avocado⠀
100 grams of red cabbage⠀
1 carrot⠀
Turmeric and paprika powder⠀
Sesame paste (tahini)⠀
Celery leaf⠀
100 grams of Edamame or delicious broad beans⠀
150 grams Leaf spinach washed⠀
⠀
Marinade:⠀
Mirin⠀
Lime juice⠀
Soy sauce⠀
Sesame oil⠀
⠀
Preparing:⠀
-Turn on the oven to 180 degrees.⠀
-Cook the organic quinoa in a pan according to the package instructions and season with salt and pepper.⠀
⠀
-Briefly heat the edamame in a pan with boiled water (raw beans contain a natural poison substance called lectin, which you remove by brief heating)⠀
⠀
-Season the chickpeas with paprika powder, turmeric and sesame paste and bake them briefly in a frying pan or in the oven on an plate (10 to 15 minutes)⠀
⠀
-Meanwhile, marinate the red cabbage and carrots (separated) with a mixture of mirin, lime, soy sauce and sesame oil.⠀
⠀
-Remove the skin from the avocado and cut into cubes or wedges.⠀
⠀
-Wash the radishes and cut in half or thinly.⠀
-Wash the spinach and set aside in a bowl.⠀
-When you have all the ingredients ready, you can build your salad bowl.⠀
⠀
-Squeeze the limes and finely chop the celery leaf and spread it over your delicious salad.
Your salad is finished,
Bon a petite!