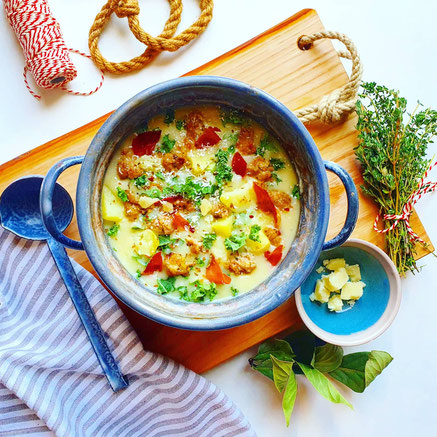 a delicious soup made with tender potato, kale, cannelini beans, cream and is packed with savory flavor from the crumbled Italian sausages and crispy bacon! 
Its really easy to make with only a few ingrediënts. 
And its combination is perfect! Before serving i finished the soup with a little bit of parmesan and chili flakes over it! 
Ive seen other recipes of this amazing soup and some of them got more ingredients, like a mirepoix that is the French name for a combination of onion, carrot, celeriac, celery and herbs.
This gives a soup or sauce a strong base. I didn't used it because I wanted to keep this recipe as simple as possible. You will not be disappointed! But feel free to add more ingredients, it can't hurt and it makes the soup only better!
Ingredients:
4 p.p
500 ml chicken broth or vegetable broth
5 large russet potatoes peeled and cubed 3 spicy Italian sausage
6 slices of bacon
1 large onion diced
3 cloves garlic minced
1 can of cannellini beans (drained)
150 gram chopped kale stems removed
80 ml cooking cream
Pinch of red pepper flakes
Parmesan cheese optional
Preparing:
Peel and cut the potatoes into small pieces and start cooking them in a large cooking pan. Add the chicken broth.

Meanwhile you can cut the bacon in pieces and cook them in a 

separate pan

 or put it on a plate in the oven until crispy.

Set aside and save the drippings of the bacon.

Fry the sausage in a pot pan and try to break them with a spatula while 

stirring frequently until cooked.

Add the pieces of onion and minced garlic and sauté 3/5 minutes and set aside. 

When the potatoes are done you can a

dd the drained Cannellini beans, cooked sausage with the drippings and chopped kale to the soup.

If you saved some drippings of the bacon then you can it also in to the soup.

S

immer for 15 minutes so the different flavors can get along.

Mash the soup a little with a whisk or mixer and try to leave some pieces of potato in the soup.

Now its time to add the Cream and s

eason the soup with salt and peper to taste.

Serve with some bacon, peper flakes and grated Parmesan cheese on top.