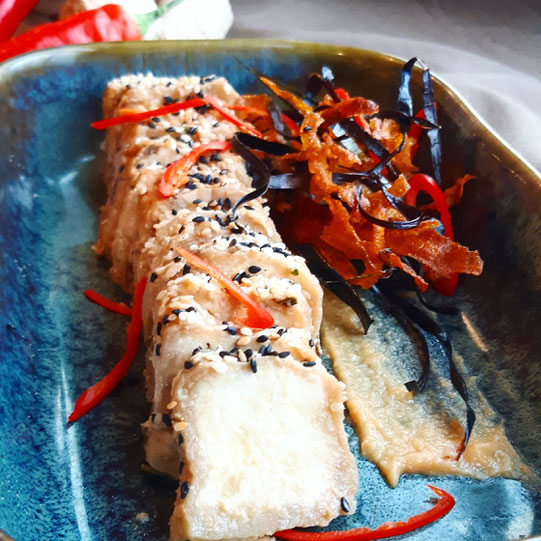 Tataki eggplant with sesame and miso.
 This dish is inspired by Tataki, which is a Japanese method for food preparation. In general, it is prepared with raw fish like tuna. The eggplant becomes white because of the marinade. Be quick with marinating the eggplant and put it in a refrigerator, otherwise it will turn brown quickly. This is a vegan variant made with eggplant You should try it! Its a delicious way to eat vegan!
Ingredients:
4 eggplants (aubergine)
Sesame seeds black and white.
1 tsp of Tahin 
1 chili sliced 
For the marinade: 
1 Lime
150 ml Rice Vinegar
80 ml sesame oil or olive oil
1 tsp Ginger grated
1 tbsp Tahin 
Pinch of Cumin 
1 tbsp Rice wine                                                                                                                                                                                                                                                                 .                                                                                                                                    1 tbsp Miso (white)
                                                                                                           Garnish:
                                                                                                                                    Peel of carrot 
                                                                                                                                               Peel of the eggplant
Preparing:
Mix all ingredients in a bowl. Peel and cut the eggplant into square slices, save the peel and cut into thin slices so you can fry it and use it later as a garnish.
Place the sliced eggplants in the marinade for at least 5 hours or, better leave it in the fridge for one night.
When this is done remove the remaining marinade moisture. now you can bake the eggplant in the oven for 25 min at 150 degrees.
Coat the eggplant with some leftover tahini pasta and finish with sesame seeds.
Fry the eggplants shortly in a pan with olive oil.
For the garnish you can cut the carrot in tin slices and fry it until its crispy, you can do the same with the peel of the eggplant.
When you are ready you can make the plates and start enjoying this delicious vegan Tataki!