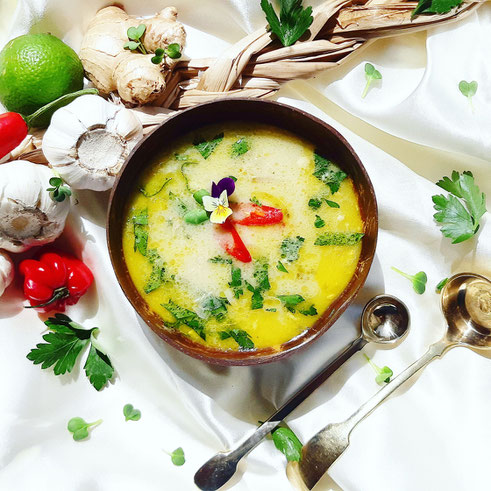 Spicy Thai Coconut Soup with chicken. Also called Tom Kha Gai.
I've been in a Thai soup mood lately
I just love the creamy sweet taste of the coconut milk and the spiciness of the fresh peppers. it's so addictive that you can't stop eating. I added a couple more ingredients than the original. I have served it in a coconut bowl this makes my soup perfect to get that Thai feeling when eating with the soup. 
Ingredients:
1 tbsp Coconut oil or sunflower oil
tsp of Thai chili oil or Thai chili paste (optional if you like spicy)
1 Shallot ( thin sliced )
1 Red pepper
2 Garlic gloves
3 stalks of lemongrass (sereh) 
2 tsp palm sugar or cane sugar
Pinch of coriander powder 
1 chunk of Laos  (Galangal) (peeled and sliced in big chunks)
1 chunk of Ginger (peeled and sliced in big chunks)
400 gr chicken thighs ( boneless )
300 gram Oyster mushroom, shiitake, chestnut mushrooms (sliced)
1 tbsp fish sauce
5 lime leaves ( Kaffir ) 
400 ml coconut milk
800 ml chicken or vegetable broth
Garnish ingredients:
fresh coriander ( sliced )
1 lime (sliced in parts)
2 mini  bok choy ( Paksoy )
3 Spring onions sliced
---
Start with slicing your ingredients and set them apart in separate bowls.
Heat the sunflower oil or coconut oil in a deep cooking pan and add the sliced Shallots, Red pepper, Garlic gloves, stalks of lemongrass (sereh), Palm sugar or cane sugar, Pinch of coriander powder, the Laos  (Galangal) and Ginger chunks.
Keep stirring well, you don't want to get your sugar burnt!
Then add the chicken and the sliced mushrooms and stir it for a short time
Pour the coconut milk, fish sauce and chicken broth over the ingredients and let it cook over a low heat.
Now you can add the lime leaves.
Let it cook gently for at least an hour. Then scoop out the chicken and cut it in slices or pull it apart with your hands when it cooled down a bit. Pulled chicken looks more natural than cutting it with a knife.
Now you can also remove all other ingredients.
Garnish the soup in a bowl on delivery with bok shoy (paksoy), red pepper, spring onion, coriander and the chicken.
Enjoy!