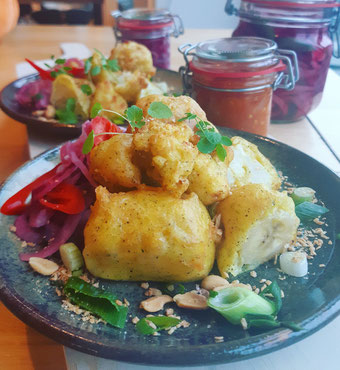 Banana fritters made with a crispy herb batter. 
I also made this with cauliflower which is incredibly tasty and crunchy!
I added some sweet and sour onions with chili pepper, sweet tomato marmalade and crushed peanuts with grated coconut! 
It is a dish that appears in various cuisine's. In Suriname it is known as bakabana. And in Indonesian cuisine the dish is called then pisang goreng. This is also eaten in countries such as Malaysia, Singapore, the Philippines and Thailand.
You can eat it with a peanut sauce but I used tomato marmelade instead.
In this recipe I just call it banana fritters because the recipe may differ slightly.
Do you recognize this dish and your country is not among them?
Feel free to let us know in the comments at the bottom of this page!
Then I will add the country!
Ingredients for the banana fritters:
100 grams of all-purpose flour
2 tablespoons of baking powder or baking soda
180 ml. sprite or 7up ( its also possible to use sparkling water with 1 tbsp of sugar )
0,5 gram of turmeric and cumin
pinch of salt
2 ripe plantains (banana)
1 cauliflower ( optional ) ( raw in pieces )
Sunflower oil.
This is also delicious to eat alongside the dish: sweet tomato marmalade and crushed peanuts with grated coconut.
Recipe for the sweet tomato marmelade can be found with this link:
Preparing
Peel the bananas and place them in oblique slices of about 5 or 8 cm thickness

.

For the batter 

mix everthing together except the sunflower oil, plantains (banana) and the cauliflower. 

If the batter is too fat, then add a little more sprite or 7up. If the batter is too thin, add a little more flour.

Heat the oil in a frying pan around 180 degrees.

dip the banana slices through the batter and deep fry into the hot oil oon both sides until it is golden brown. 

Drain the banana fritters on a dish with kitchen paper.
Ingredients for the sweet and sour unions ( pickled )
Ingredients
2 red onion, thinly sliced (use a mandolin if you have one)
200 ml white vinegar or rice vinegar
100 ml or water
pimento pepper grain (black)
40 grams of ginger
Red pepper to taste and spiciness
2 bay leaves
1 tablespoon sugar
1/2 teaspoons of salt
Preparing 
1.Slice the red onions as thin as you can. I use a mandolin.
2.Stuff all the red onions in the jar of your choice. A bowl will work too.
3.Heat a small pan, with the vinegar, salt, sugar, and hot water, ginger, red pepper, pimento pepper grains and bay leaves.
4.Stir to dissolve the sugar and salt. Pour this pickling mixture over your sliced onions in a jar.
5.making sure they are immersed in the liquid. and let them set for an hour.
6.After an hour you can close the jar and store in the fridge for up to 2 weeks.