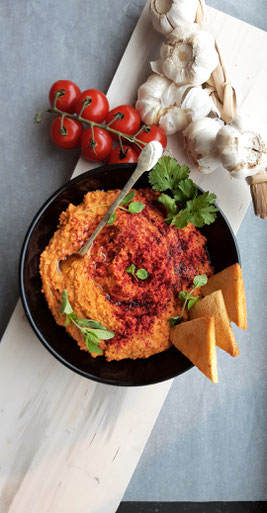 Ingredients for 6 servings of hummus:
250 gram of dried chickpeas or from a can chickpeas.
1 beetroot or 50ml beet juice.
100 gram of roasted peppers or sweet peppers.
80 gram of dried tomatoes.
1 teaspoon of baking soda.
( This helps for a extra creamy structure of the hummus. but is not necessary to add )
150 gram of tahini.
4 tablespoons fresh lemon juice.
3 crushed garlic cloves or garlic purree.
50 ml of water / cooking liquid.
50 ml of olive oil.
1 tablespoon Ras el hanout.
1 tablespoon Paprika powder
1 teaspoon of Cumin powder.
Salt to taste.
White pepper to taste.
To serve: Olive oil, fresh leaf parsley, coriander, extra chickpeas, beetroot powder, green pointed bell pepper, flatbread.
A short story about the olive oil that I used for the hummus.
At work there is a friendly woman of Moroccan descent who receives liters of olive oil every year from a farmer who still takes care of the olive groves in Morocco.
The farmer takes care of the olive groves because it belonged to her father, unfortunately her father died but it is still a lovely gesture to receive something like that every year. Of course she didn't tell me this story right away, this only came when we were talking about Moroccan food and that good olive oil is an important part.
Now I also get a number of bottles per year that I use with great love for my creations, every time I feel so lucky receiving this incredible olive oil.
Of course I know that you do not own the same olive oil, but it is great to use an oil from a certain region where you have been on vacation for example. That makes it not only extra special but who knows better than those from the supermarket.
One of the best available in the Netherlands is the "Masia El Altet" which is from Spain and has really good quality.
Masia el Altet has a very small production because only oil is produced from its own trees. The trees are fed by the mineral groundwater that comes from surrounding mountains. Enough stories about the olive oil, you're here for the hummus!
In Arabic, Hummus means chickpeas. The basis of hummus is chickpea so think carefully about whether you want to get out of a can or let the dried ones soak.  It's a classic dish from the Middle East and Mediterranean and many countries claim hummus as a national dish and its spelled different: Hummus, Hamos, Houmous, Hoemoes, Hummus, Hommus, Hummos or Hummous. 
Below you will find the preparation method.
Preparation.
After you soaked, cooked, drained and rinsed the chickpeas you can 

rub the chickpeas 

between your fingers and the skin will release itself.

Don't feel like cooking and peeling chickpeas yourself? Feel free using 

chickpeas from a can.

Put all the ingredients in the blender until the hummus is soft enough.

If necessary, add some olive oil to make it run more smoothly.

If everything is well mixed you can taste the hummus.

Add some pepper, salt, tahini or lemon juice to taste, and if it still too thick, mix in some water and oil.

Switch the blender back on and let it blend for 3 minutes at high power.

Put the hummus in a bowl, pour some olive oil over it and garnish with coriander, leaf parsley, chickpeas and beet powder and add some flatbread. Enjoy the hummus!