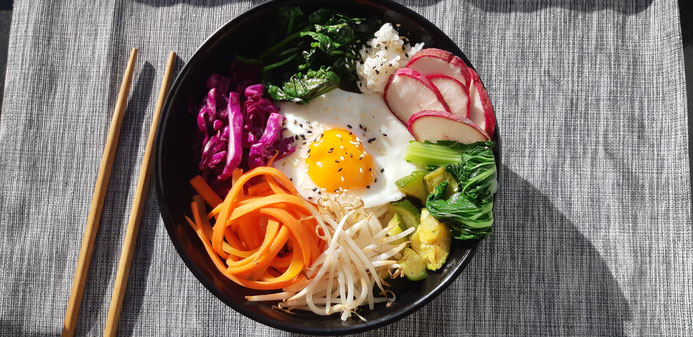 Bibimbap is probably one of the most well-known and beloved Korean dishes to many people.
The word literally means mixed rice. 
You can make endless variations to this dish ! 
When eating this dish you mix the rice with the vegetables, fried egg and "optional" meat with a delicious red chili paste "gochujang". 🍜🥢비빔밥
The term "bibim" means mixing various ingredients, while the "bap" noun refers to rice.
Ingredients for the bowl.
250 gr Baby spinach
350 gr Bean sprouts 
80 gr Daikon radish
100 gr Shiitake mushroom
100 gr  Cabbage
80 gr Pakchoi
150 gr Carrots 
1/2 tsp fine sea salt 
Cooked basmati rice
4 eggs
Sesame seeds black & white
Korean seasoned seaweed, shredded
Bibimbap sauce
50 gr gochujang ( chili paste )
1 Tbsp sesame oil
1 Tbsp sugar (optional)
1 Tbsp water
1 Tbsp roasted sesame seeds
1 tsp rice vinegar
1 tsp minced garlic
Instructions
Prepare and cook ingredients as below.
Mix the Bibimbap sauce ingredients in a bowl.
Clean the spinach and bean sprouts separately in cold water.
Rinse, peel and slice the carrots julliene. Add some cooking oil and 1/4 tsp of fine sea salt in a wok and cook the carrots on medium high to high heat for 2 to 3 mins.
Clean/rinse the shiitake mushrooms and thinly slice them. Add some cooking oil and 1/4 tsp of fine sea salt in a wok and cook the mushrooms on medium high to high heat until they are all cooked. (It takes 2 to 3 mins.) 
Now you can prepare the eggs, you can poach of fry them that is entirely up to you !
Put the rice into a bowl assorted vegetables, seasoned seaweed, Bibimbap sauce and the egg on top of the rice and dont forget the sesame. Serve it.
Mix the ingredients well in the bowl and enjoy this stunning dish!