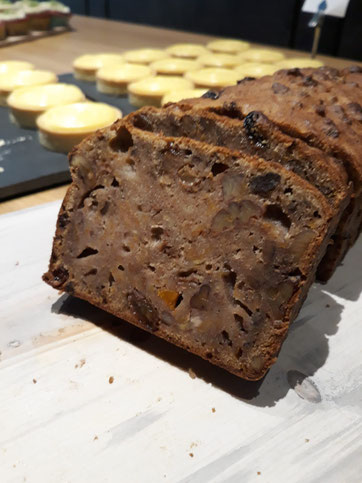 Ingredients.
260 grams of spelt flour 
1 teaspoon baking powder
125 grams of butter
50 grams of light caster sugar
2 eggs
100 grams of agave syrup
4 ripe bananas (ripe bananas are deliciously sweet, the sweeter the banana the less or no sugar is needed and it is ideal for the less-waist idea to process the bananas)
100 gr Grated pumpkin.
1 teaspoon of cinnamon, five spice Chinese herbs.
Olive oil 
Walnuts and Pecannuts
Raisin sultana
Preparing.
1. Oven at 180 degrees.
2. In a bowl mix the spelt flour with baking powder and a pinch of salt.
3. Melt the butter in a pan or microwave and let it cool off for a few minutes.
4. Mix the butter, sugar, syrup, eggs and banana.
5. Mix it together with the flour and then add a little bit ( 1 tsp ) of olive oil.
6. Then add the sliced nuts, grated pumpkin, raisins and herbs.
7. The cake is now ready to pour into the desired cake cans.
8. Bake the cake at 180 degrees for about 15/20 minutes and then for about 30 minutes at 130 degrees with aluminum foil over it. (this is to prevent the cake from getting too dark)
9. After baking, check with small stick or fork if the cake is done.