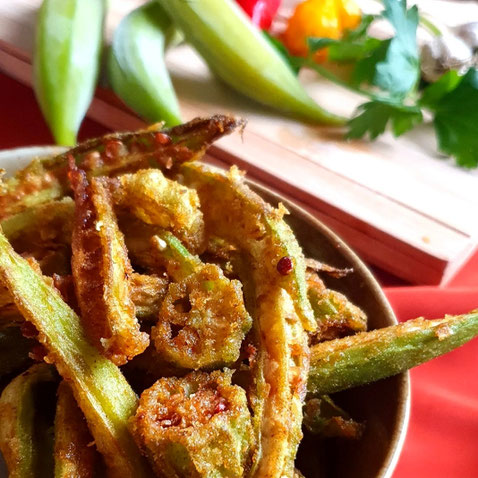 On my holiday in Suriname I was very inspired by the impressive and beautiful products to cook with. On the return trip I brought a trolley full of vegetables and 10 kilos of Surinamese fish and crabs. I know it sounds crazy... but yes it is worth it. I also brought fresh Okra with me because it was a lot cheaper there than the imported Okra in the Netherlands and the quality is much better. On the markets and with my flight back to the Netherlands I was already thinking about what I wanted to prepare with the Okra first. Okra bravoe soup or fried okra or... They are all on my list. Eventually I wanted to start with the crispy Okra. It is a bit Indian inspired actually. I have used potato starch instead of besan and had homemade masala mixes at home, such as curry powder with coconut, which differs from what people make in the original. Feel free to play with the ingredients.
Ingredients:
15 Okra (Bindhi)
*1/2 tsp chili powder
*1/3 tsp turmeric powder 
*1/2 tsp cumin powder
*1/4 tsp garam masala
*1 tsp Chaat masala powder or Hindustani masala powder 
* rice flour
* chickpea flour(besan) or potato starch
* salt 
* sunflower oil for frying
How to prepare:
Rinse the Okre in water for 5 -10 minutes ( washing the vegetable ) Then dry the okra very well.
Remove the crown and the base tip. Cut the Okra into 4 pieces, and but them in a bowl.
Now you can make a mixture off spices and seasoning on a plate or in a bowl.
Add mixture of the rice flour and potato starch or chickpea flour(besan). Mix it well.
Mix it well with the okra
Make sure before you fry the oil is hot enough other wise the okra becomes soggy.
Deep fry, put it on a kitchen napkin which will absorb the oil. After that you can put the crispy okra on a plate with a spicy chutney