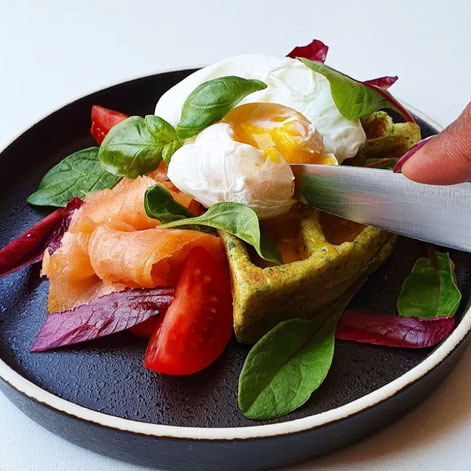 Who doesn't love waffles?🧇 
Today Im sharing these healthy oatmeal spinach waffle with smoked salmon, poached egg, red chicory! 
Last year I tried out some waffles with vegetables in them. Which surprised me every time. Now I made gluten-free waffles with oatmeal, low-fat cottage cheese, egg flour and baby spinach. A great combination! The waffles were fluffy on the inside and a bit crispy on the outside.
Ingredients.
150 grams of oatmeal
100 grams of low-fat cottage cheese
80 ML oat milk or almond milk
2 eggs
2 tbsp baking powder
6 gr baby spinach leaves
salt. 
How to prepare:
Mix everything in a blender till you got a fine batter.
Warm up the waffle toast and put some waffle batter with a ladle or measuring cup.
Bake them until golden brown.
Make sure all toppings are ready in the meantime.
The toppings I used: Smoked salmon, poached egg, spinach, red chicory!