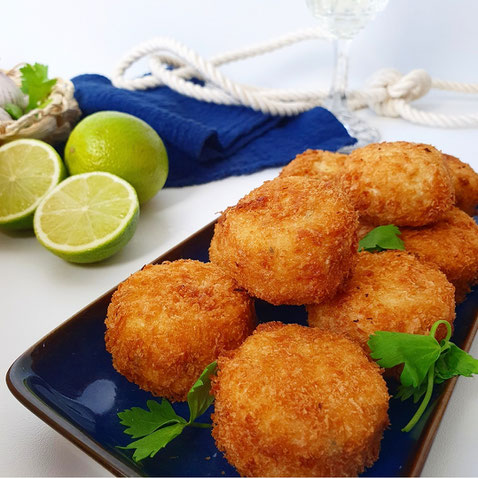 Crispy and richly flavored fish cakes filled with spicy cod potato filling with vibrant herbs. If you are still looking for inspiration for Christmas or if you have visitors this weekend? this can be the right solution to surprise your guests. These delicious crispy bites goes great in combination with a whine and good company.
Crispy Fish cakes
INGREDIENTS  
·      5 tbsp olive oil mixed with sunflower oil 
·      500 gr cod filet boneless
·      1 garlic toe
·      salt and pepper
·      800 gr potato mashed
·      1 large egg
·      4 shallots, minced
·      ½ red chili peper
.     80 gr panko or breadcrumbs
·      1 lemon (juice)
·      1 tbsp chopped flatleaf parsley
·      1 tbsp chopped celery leaf.
·      1/4 cup all purpose flour
How to prepare the crispy fish cakes.
Put a large cooking pan with water and a garlic toe high heat and boil the potato until it can be made into mashed potato. Drain the potatoes in a colander.
Put the potatoes back into the hot pan on the lowest heat you can and let them dry out for 1 min, mashing them with a fork and stirring so they don't stick. You should have a light, dry fluffy mash.
Take off the heat and beat in 1 rounded ½ tsp lemon juice, ½ tbsp of olive oil, 1 tbsp chopped flatleaf parsley and 1 tbsp chopped celery leaves.
Wash the cod fillet with cold water.
Heat 2 tbsp oil in a large frying pan over medium heat. Add cod, season with salt and pepper. After a few minutes you can also add the chopped chili peper. Bake the cod until cooked through and become flaky pieces.
After frying the Cod you can put it in a bowl and break into large flakes with your hands. Add mashed potato, egg, minced shallots and 40 gram of panko or bread crumbs so that the mixture holds a patty shape. Save the other half panko for the breading line. Mix everything together until well-combined.
Place flour on a plate. Form the mixture into equal patties between the palms of your hands, dredging both sides in the flour and transferring to a baking sheet as you go. Refrigerate fish cakes 20 minutes to firm up.
Setup a breading line with fishcakes on a plate,
a shallow bowl with flour, shallow bowl with egg beaten, shallow bowl with panko crumbs.

Start by coating in flour. Roll to coat both sides and the edges
Dredge the fishcake in flour, then dip it into the egg covering it completely. After that you can cover the fishcake into panko. 
Repeat with remaining fish cakes.
Pan fry until golden on both sides for about 3 minutes.
you'll need to fry them in a few batches to avoid over-crowding the pan. 
Serve with the spicy tomato marmelade, chili sauce or garlicky mayonnaise.