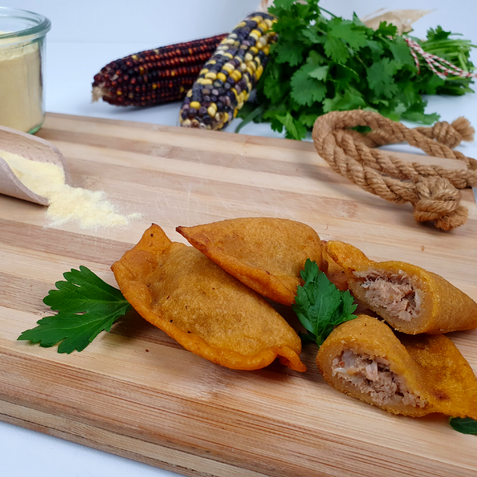 Pastel de Milho 
In Cape Verde, you'll find the Pastel de Milho on almost every street corner, along the road at a festival and even at the market. There are several variants and believe me they are all great! This version I learned from my mother and is my favorite. In this recipe we use spicy tuna for filling and the orange sweet potato and banana for the dough, which are mixed with fine corn flour from Valle del Sole.
Ingrediënts:
For the dough:
5 cups/ 500 gram Yellow corn flour ( Fioretto cornflour from Valle del sole)
https://www.valledelsole.nl/producten/granen-en-melen/fioretto-maismeel/
3 pieces Banana
2 pieces/250 gram Sweet potato orange (unpeeled)
For the filling:
1 Onion ( finely chopped)
2 Garlic gloves (minced)
2 Bayleaves
2 tsp tomato paste 
1 tsp pepper flakes or 1/3 malagueta pepper (finely chopped)
1 tsp white vinegar
1 Lemon (juice)
3 Can Tuna in oil (drained)
Preparing: 
Bring a large pot of salted water to a boil. Make sure you have enough water so the sweet potatoes are covered by enough water.
Meanwhile you can start by peeling the sweet potato and cut into similarly sized chunks and place in a container.
When the water is boiling, add the sweet potato chunks carefully.
Cook them until they soft enough to mash and remove from the pot (save the water), mash the sweet potato and let them cool.
Cut the bananas into pieces and toss them with the sweet potato.
Now add 5 cups and start mixing until you get a dough.
If the dough is too soft, add some corn flour if necessary and if the dough becomes too dry, add some water from the boiled potatoes. Roll dough into a ball and cover with a damp cloth, and refrigerate while you prepare the filling.
Now you can start with the filling, place the tuna in a bowl, red pepper, garlic, lime juice, vinegar, a pinch of salt
and mix well. 
Heat a pan with some olive oil and fry the onion with the tomato paste and bayleaves for 3 minutes and add the tuna mixture.
Stir well for about 5 minutes and add some salt and pepper if necessary.
Now that you have the dough and filling ready, you are ready to start folding.
Remove the dough from the refrigerator.
Take a large cutting board and place on plastic wrap from a sheet of baking paper.
You can use this as a handy tool to roll, fill and fold your dough.
Take a piece of dough and make a small ball with your hand.
Press the plastic sheet of baking paper and fold it shut.
Carefully roll over with your rolling pin to roll your dough flat and at the correct thickness.
Unfold it carefully and fill your dough with the tuna mixture.
Close it again and gently press the edges to seal your dough.
Repeat this process until all your dough is used up.
Now you are ready to bake the pastries.
Heat at least 3 inches of sunflower oil in a large pot to a temperature of 350°F (180°C). Fry the pastries, working in batches so as not to crowd the pan, until they golden brown. Drain on paper towels.
*TIP*Use with a lot of oil and be careful with hot oil because you can get burned.
*My advice*try to put your Pastel de Milho in the hot oil carefully with a spatula that can withstand heat.
Serve and enjoy, Bon a petite!