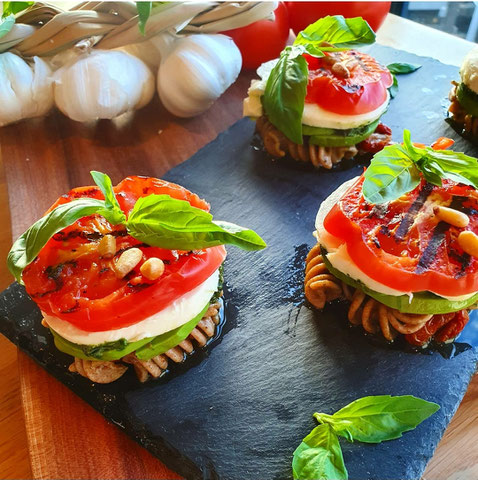 Caprese stacks!
Today we share these amazing Caprese stacks.
 This healthy dish is packed with High-fats, fiber and protein.
It is a bit different from the original caprese salad that you are used to from an Italian. I added whole grain pasta and avocado that goes well in combination and gives an extra satiated feeling in the stomach.
It is an easy and great starter to surprise your guests and yourself.
The grilled Coeur de boeuf tomato has a roast flavor, the mozzarella is so soft that its almost melts on your tongue and the avocado together with the pesto makes it so smooth. 
This dish is definitely worth trying!
Ingredients for the Caprese stacks:
5 pcs- Coeur de boeuf tomatoes
5 pcs- Buffelo Mozzarella
2 pcs- Avocado
15 grams of pine nuts
50 grams of dried tomatoes
350 grams Whole wheat spelled pasta
For the pesto:
75 grams of Basil
50 grams of Sage
30 grams
50 grams of parmesan cheese
15 grams of pine nuts
Olive oil
Pepper and salt
Preparation:
-Put on a pan of water and bring it to a boil.
-Now you can cook the pasta (check on the packing description how long you have to cook the pasta)
-In the meantime, briefly roast the pine nuts in a pan or in the oven (keep an eye on them and stir them every now and then)
-Then slice the Coeur de Boeuf tomatoes and the Mozzarella.
           (Tip * don't cut the tomatoes too thin, otherwise they will become too soft when grilling)
-Then you can dice or slice the avocado and put it cold.
-Put on a grill pan and let it get hot on high heat, now you can grill the Coeur de Boeuf (tip * grill on one side, otherwise they will become too soft)
-In the meantime, Mix all ingredients for the pesto in the blender.
-Use a cooking ring to fill it with pasta, then top the avocado with a teaspoon of pesto, mozzarella, tomatoes and top it off with a basil leaf and pine nuts!
Bon a petite!