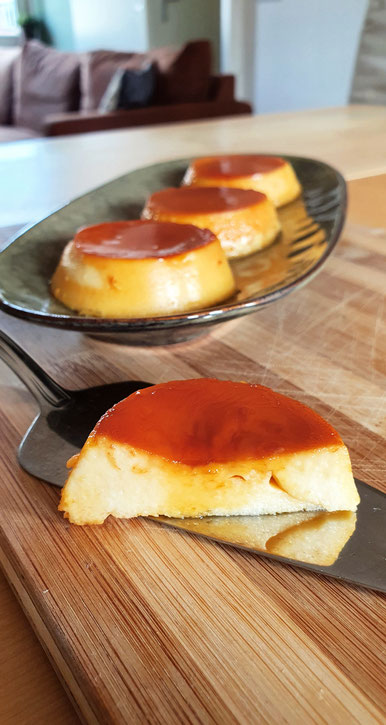 Pudim di queijo
Sharing this mouthwatering recipe of Pudim de Queijo (Cheese pudding)! It is a delicious dessert made with goat cheese in combination of sweetened milk and melted caramel. Not a fan of goat cheese? Well I also tried it with Parmesan cheese instead of the goat cheese and it was really good! This dish is well known in Brazil, Cape Verde and Portugal.
Mini Pudim di queijo 
Ingredients: 
- 1 can of condensed milk 
- 2 cans of milk (use the cans of the condensed milk for the correct amount) 
- 4 eggs
- 100 g grated or soft goat cheese. 
- Divide the caramel sauce over the molds. (you can also make your own caramel with sugar and water) 
- Caramel sauce: 
- 150g sugar 
- 50ml of water
Preparation: 
Mix the milk with the condensed milk and the eggs in a blender or mixer. 
After mixing the milk and eggs, add the cheese and mix well. 
Boil the sugar and water to a thick syrup. 
Then divide the caramel sauce in the baking / pudding molds. 
Place the pudim de queijo in a preheated oven at 180 degrees Celsius in the water bath. 
(au bain-marie) Let it cook in the oven for about 50 minutes.
Let all the mini pudim de queijo cool and then put them in the fridge.