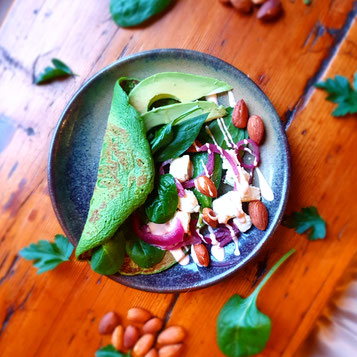 Spinach pancakes  with roasted almonds, feta Sweet and sour onions, Avocado, Greek yogurt with agave syrup.
Sharing this lovely recipe with you guys because these pancakes are incredible good and really easy to prepare. Sometimes im still surprised that a dish with not much ingredients can be so delicious.
I can still remember the time that I felt in love with these green monsters!
Facts about spinach: Did you know that spinach is nutrient-rich and also low in calories. 
Spinach contains lots of protein and mineral vitamins. Like Vitamin A, C, E and K1
Folic acid, Iron, Calcium, B6 and B9.
The potential health benefits of eating spinach include lowering the risk of cancer, lowering blood pressure, improving bone quality, good for your skin and hair.
Ingredients.
The green pancake batter:
500 grams baby spinach fine (washed)
100 grams of spelled flour
150 grams of flour
300 ml of almond milk
salt
1 tablespoon of oil
2 eggs
Garnish.
200 gram of feta cheese (crumble them by hand)
150 ml Greek yogurt (optional with low fat yogurt)
1 tablespoon of agave syrup
80 gram of roasted almonds
Other baby spinach (see preparation step 1)
Red onions sweet and sour (optional), you can find the recipe here below
Red onions sweet and sour.
1 red onion ( cut it in rings )
100 gram of sugar
200 ml of vinegar
1  bay leave
1/3 red peper or less (depends how spicy it has to be)
Preparation.
Wash the baby spinach with cold water and use 400 grams for blending and keep 100 grams aside for garnish.
Mash the baby spinach with the almond milk in a blender and blend it until its a green milk without any spinach pieces.
Mix the flour (spelled flour with flour) with the almond milk spinach mixture,
the eggs and a pinch of salt until you got a thick green batter.
Heat some oil in a frying pan and pour some of the green batter into it.
Is the batter not firm enough to bake a pancake or too thick?
Then add a little flour or dilute it by adding more almond milk.
Fry pancakes over medium heat on both sides until light brown and cooked through until batter is completely done.
To serve:
Garnish with roasted almonds, crumbled feta, agave yogurt, other baby spinach.