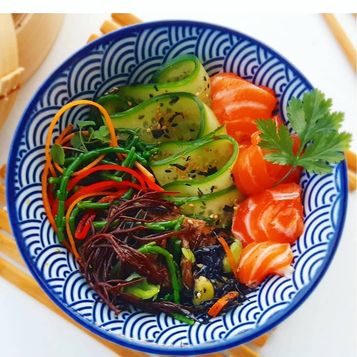 Sashimi salad Samphire and Seaweed.
A fresh and healthy Sashimi salad, red seaweed, edamame, cucumber and sesame lime dressing with sprinkled wasabi furikake on it!
Sometimes on the Saturdays I make a quick stop at the market for some fresh fish. This time I bought some fresh salmon, and while waiting in the long line of people I noticed that they also sold samphire and seaweed. Just perfect, because this gave me the idea for making a this incredible sashimi salad!
4 persons.
Ingredients:
300 gram Sashimi ( sushi grade-salmon )
2 tbsp Rice vinegar
3 tbsp Mirin
150 gram Samphire
100 gram Red seaweed
100 gram carrot julienne 
1 Cucumber thinly sliced
100 gram Edamame
Ginger grated
1 tsp Sesame oil
1/2 Lime (juice)
1 tsp Wasabi furikake
1 tbsp Butter
Salt and peper
Preparing:
Put in a small cooking pan the mirin, rice vinegar, ginger grated, peper an salt.
Simmer it for 5 minute on a low heat and set aside. and let it cool of.
Cut the carrot julienne and the slice the cucumber thinly.
Wash the samphire and the Red Seaweed separately.
Marinade the sliced cucumber in a bowl with 1/2 of the mirin, ginger mixture
and the other half for the Red Sea weed. And set aside.
Heat in a large fry-pan with some butter and sesame oil, fry the samphire.
Then add a little water and let it simmer on a low heat shortly around 3 -5 min.
Heat the edamame shortly in in a pan with boiled water, around 5 -7 min.
Slice the fresh salmon in thin slices or cubes. And collect al the ingredients to build your bowls.
Sprinkle some wasabi furikake on your sashimi seaweed bowl.
And that's it! enjoy your sashimi bowl.