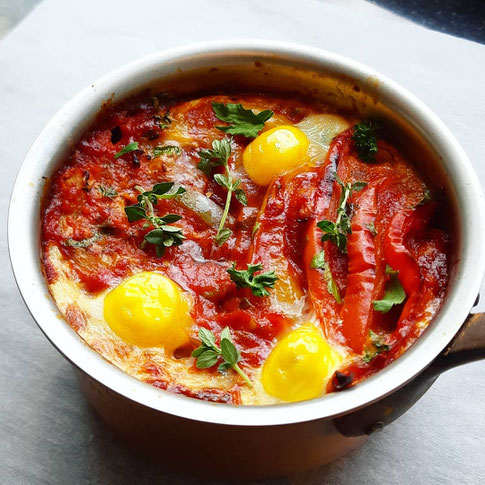 Shakshuka also spelled Shakshouka is a healthy comforting dish of eggs poached in a warming sauce of tomato's, chili pepper, bellpepper, garlic and onions. Seasoned with cumin, saffron, coriander and cayenne Pepper. I also added some homemade harissa for the extra spice and flavour. Its a populair dish in the Middle Eastern and North African countries and got all kind of different shapes and varieties. I prepared it with quail eggs, harissa for the spiciness and a pinch of saffron which makes the shaksuka rich in taste. 
Because this Shakshuka has stood up for hours, so that all flavors can absorb extra well, no salt or broth was needed. Which is perfect because alot people get too much salt in their body.
You can eat this healthy meal for breakfast, brunch, but for also for lunch! If you're not gluten or dairy-free, Feta cheese on top is really delicious and you can also serve it with bread or pita.
Ingredients Shakshuka.
1/2 tsp Garlic paste.
2 tbsp Tomato paste.
2 tbsp (100ml) Olive oil.
2 Onions.
4 Bell peppers ( Paprika )
6 Ripe tomatoes
8 cherry tomatoes.
3 Bay leaves.
5 Thyme (use the leaves)
1 tsp Cumin seads ( roasted )
30 gram Leaf parsley fresh ( chopped )
20 gram Coriander fresh ( chopped )
1/2 tsp ( pinch ) saffron
Cayenne pepper.
6 eggs or 10 quail eggs.
Optional: Harissa ( A spicy paste made of chili peppers, tomato and herbs )
Preparing.
Slice the onions and the bell peppers into wide strips.
Chop all the ripe tomatoes in pieces and the cherry tomatoes in half.
Chop the leaves of the thyme and chop half of the coriander and parsley ( You can keep some of the chopped coriander and parsley behind for garnish) 
Roast the cumin seeds in a large frying pan for 2-3 minutes over high heat. 
Add the olive oil, tomato paste, garlic puree, onions and some cayenne pepper fry for 

4

-

5

 minutes.
Put the bell pepper, and spices (parsley, coriander, thyme and bay leaf) in the pan and fry for 5-10 minutes on high heat until the vegetables are nicely colored.
Add the tomatoes, saffron (first put the saffron in a separate glass of warm water to make the mixing easier and then add it.
And optional add some Harissa. 
Reduce the heat and let the vegetables simmer for 20 minutes. If it is necessary add some water so that the mixture has the consistency of pasta sauce.
Remove the bay leaves from the sauce.
Crack the eggs with a knife in to the sauce.
Leave them on very low heat for 10-15 minutes ( simmer ) until the eggs are just done.
Sprinkle the dish with the left over Coriander and Parsley.
Shakshuka                                                                                                                                 Harissa