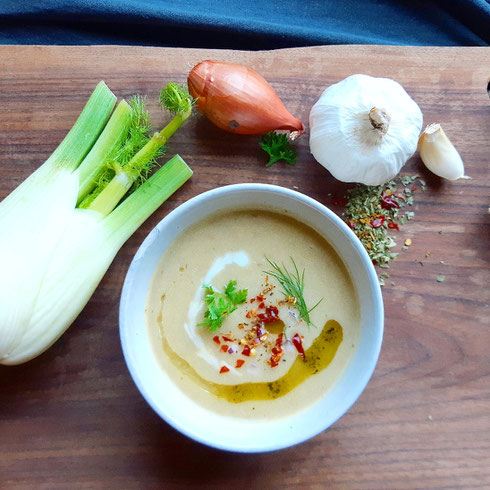 Ingredients
4 fennel bulbs, sliced
1 large onion or 2 shallots, chopped
3 garlic toes
Vegetable or fish broth
200 ml cream
1 bay leaf
Dill chopped
Chili flakes chopped
Roux or potato starch
Salt and pepper to tast
Preparing.
Heat some olive oil in a large cooking pan and gently fry the shallots and garlic until softened but not coloured.

Add the fennel and the dill and sauté for 4 minutes.

Add the vegetable stock and bring to the boil. 

Pour the 

soup

 into a blender, add the cream and blend until smooth. 

Return all to the pan. Cook and stir until slightly thickened or add some Roux ( flour & butter mix ). Simmer 15 minutes longer (do not boil)

To serve, pour the 

soup

 into a serving bowl and sprinkle the chili flakes, dill and add some citrus oil for the finishing touch.