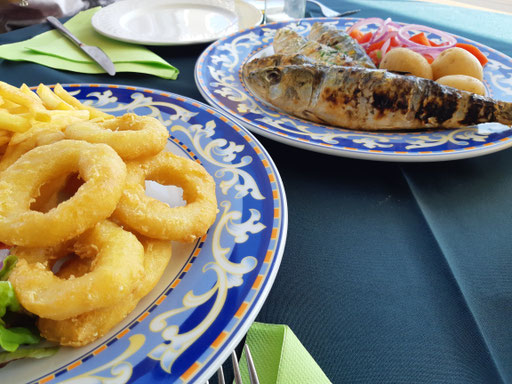 Portugal is a great country full of long white beaches, good surf spots, cozy cities and great food.
When my sister started working and living in Lisbon for a year, it seemed a good idea to visit her. I have to say that this was one of my best city trips ever! The culture, environment and food was so great that I didn't get enough of it.
12 days in the October month didn't seem enough! The weather was good, It was after the summer with a wonderful temperature around 25/27 degrees! Only on my last day it rained a little bit.
Because my sister had an apartment in "Amadora" and worked a lot during the day,  I've planned to stay somewhere else.
I stayed at the Hostel called "Sunset Destination" which was like a hotel. I had a room by myself with a toilet and a shower.
It was in the centre of the city and close to every kind of public transport. Also in the evening, it was easy to travel because it was close to the  bars. I've spend some great times in Lisbon, Cascais, Carcavelos, Sintra,  Almada, Costa de Caparica. My plan was to do my first surfing lessons abroad but something went wrong with the booking system of the surfing company. They didn't picked me up in the early morning so I missed the surfing lesson. I'm going to talk  about this more in another blog because this is going to be about my surfing holiday in the Algarve.                                                                                                                                                                                                                                                                                                                                             
Algarve
I made my comeback in the Algarve, the South of the beautiful country Portugal and it was fantastic! This time I came there for a surfing vacation. The first week I've stayed in a small town called "Luz" in a surf village with beautiful apartments. Every morning the surf instructor picked me up by a van full of other starting surfers. We went mainly to Bordeira Beach, a very nice beach with perfect waves for surfing.
Because of the surfing I've met a lot of travelers easily. This made me happy because I was traveling alone. Many people where from the Netherlands, but there where also Americans, Australians, Belgians, Germans. The first 2 days of surfing were very heavy, especially the part where you have to walk from the van to the surf spot on the beach. Oddly enough, the 3rd day was much easier and I've got used to it. 
It kind of felt like a morning exercise so it wasn't that bad at all, I had followed 5 lessons in total!
Moslty after the surfing lessons, my energy was low. Because of my low energy, I refreshed myself and rested in my apartment. There was a large swimming pool where I could meet other people, and in the evening we went looking for nice restaurants. On my last night there was a traditional party on the beach "Praia de Luz" with all the locals and tourists. During the party, the locals are celebrating the last day of summer. It starts in the evening when everyone comes to the beach and start making big camp fires. So we asked some Portugese to join them at the campfires and they were very excited we joined them! We joined around 5 different campfires until we found the best one! Around the beach boulevard it was all organized with music, live bands & food stands! It was a real village party that brought a lot of fun to a small place.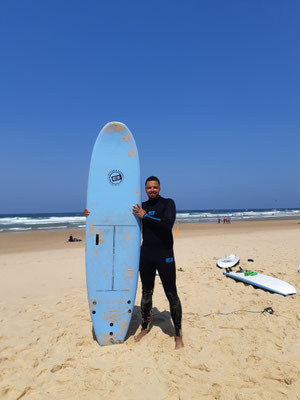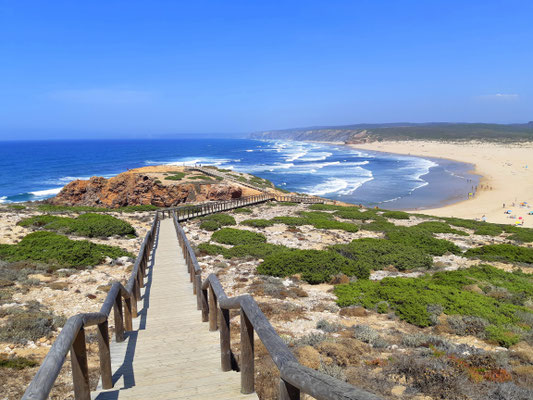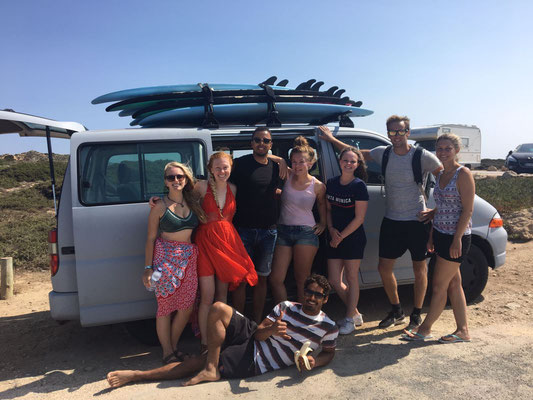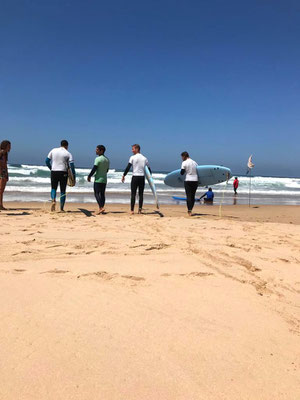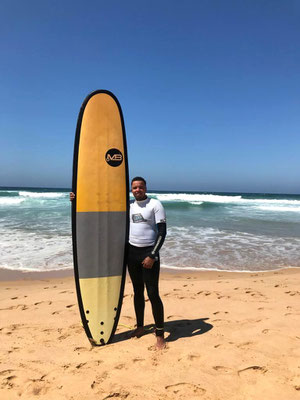 One day in the afternoon I spoke to two people from the surf village crew. They asked me how the surfing went and if I would like to go to the market in Lagos. I joined them because i was curious about the market and thought the people of the crew were cool. So i planned joining them to get some fresh fruit and vegetables. I also asked someone else to join us to Lagos. This person I met in the morning with the surfing lessons.
When we arrived at the market, I was surprised to see that there were all kind of healthy food stands. There was a very long line at the vegan burger stand and also at the healthy flatbreads & crepes filled with vegetables or meat. Of course I couldn't choose so I opted for both. There were also many nice stalls with fresh vegetables and fruit. Strangely enough, there was a demonstration with nice music and a performance against the government oil winning plans or something like that. But the atmosphere was great in the market, there wasn't a bad vibe at all!
There was an evening I wanted to have some drinks in Lagos, unfortunately no one from the apartment wanted to join me. Therefore, I went alone and I planned a meeting with other travelers through the "couchsurfing" app! I received a quick respons from some other people that wanted to do the same thing. I have to say that I really enjoy this time to be alive, it's so easy to meet new people nowadays.
My plan was to go by bus and come back with the uber. The experience by bus was pretty special so i'm going to explain you why.
I had to wait at a bus stop in Luz. At the bus stop there was a lady waiting and when I looked around I've found a very small note on the busstop, stuck with some cheap tape. When I looked  a bit closer, I saw that the bus schedules were on it. I've tried to read it but the letters where so small and unclear that I couldn't read and understand it. It was one of the most terrible bus schedules you could think of.
Therefore, I've asked the lady who was also waiting for the bus if she knew at what time the bus would arrive. Her answer was simple and clear ...'Yes soon maybe.' After 20 minutes of waiting I've heard a humming sound and I knew immediately that must be the bus!
And yes... around the corner the bus appeared with squeaky tires and a lot of noise. It was a bus from the 80s, maybe even earlier.
The bus chauffeur pressed a button and nothing happened...With full of anger he stood up and walked towards the door.
I never expected what was happening now. With a big kick, he kicked the door of the bus open, like what you see in the fighting movies.
Nobody looked strange at the moment, if it were normal. Thereafter, he walked back at he's chair with a lot of cursing.
Seriously, I tried so hard not to laugh at this and paid for a one way ticket to Lagos. When I finally arrived in Lagos,  I socialized with a small group from couchsurfing in a pub and we spend a great time together.
On that night I had drunk so much that I thought it would be better to go back. I called a uber taxi and it brought me back.
The next morning I woke up with my clothes on. I could not find my phone and had a horrible hangover.
When I walked to the bathroom with my sleepy head, my phone was lying on the floor. I looked at the time and it was already 08:00 ...
I was completly shocked! because I would be picked up at 08:30 by my surf instructor with a van full of other surfers.
I went to take a quick shower and ate a banana. so quickly packed my surf bag and
went surfing on an empty stomach and believe me the warming up and surfing was terribly heavy in the begining!
This is absolutely not recommended when you are 29 years old or older. drinking and surfing is really bad ! 
After a week in Luz, I stayed in Lagos for a while. A very kind lady from the surf apartment crew brought me by car. because the buses are quite a drama.
Let me tell you more about Lagos it self. Its a nice town with a harbour, restaurants, shops and markets, It is well worth it to go here and it all looks beautiful. Its more crowded than Luz, because there are alot of tourist. But my experience was really good. and I enjoyed the environment and city there. 
Within the city walls you can wander for hours, get lost and gaze at the colorful buildings full of beautiful azujelos. Exactly, the tiles that you see so often in the Portuguese villages and cities.
The atmosphere in Lagos can be described as relaxed. From the port of Lagos you can make various trips in small boats. There are wooden boats for a day of sailing or fishing. Several boats make trips to spot dolphins and from Lagos you can also visit the caves that have formed in the coast. The small boats will sail you along the beautiful coast and at the harbor you had also some market stalls with typical portugese souvenirs.
I went to eat some tapas on the terrace of a small restaurant with some good company of the surfing village. Always nice to share a wooden plate full of small dishes. It was simple but very tasty !
Not long after that we said goodbye and was walking back in the direction of the harbour.
 When I was looking for some souvenirs for my family I came across another surf mate by chance.
We have not had the chance to say goodbye after our last surf lesson, so this was perfect.
After seeing everthing I took the train to Albufeira for my next little adventure.
The intention was to have more delights and resting there after all that surfing.
In reality this was a bit different than planned, but I really loved it. 
I had the last train to albufeira and the journey took about an hour. I was really looking forward to it! 
This time I stayed in a Hostel called Orange Hostel with a bar on the rooftop and a cozy lounge area which is perfect to meet new people! 
On the first day I met some friendly travellers, Two Germans and a French woman. We talked a bit and made a plan to do something fun on the next day. We were planning to see the well known Benegil Cave and we were very enthusiastic about it. Its a cave that can only be visited by Sup or boat. But because of high tide it was not a good idea to go there. We even found out that no boat was allowed to leave because it is too dangerous in that week to go there by a Sup tour or boat. Fortunately there are plenty of others great beaches and so we did.
We went to a lovely beach called Sao Rafael a bit outside of Albufeura.
It was a great day and the other beaches were breathtakingly beautifull but only after hearing a little bit of English,
German and French in a mix of languages together I found it after a day enough.
The second day I was having breakfast on my own, but there was a nice lady from Kazachstan sitting in front of me.
Randomly we started a conversation and then she asked me what my plans were for the day.
After I told that I was about to go sightseeing, She said she met a Portuguese and an Italian.
Her plans were to travel with them by car to another city, and asked if I wanted to join.
Of course I said yes and before I knew it we were on our way to the city of Portimão.
After relaxing on the beach and exploring the beautifull places around it we ordered beer with Tremoços and I could not resist ordering a
sandwich with fresh fish at a beach restaurant. Tremoços that we ordered also called lupini beans are very tasty yellow beans. 
In countries like Portugal, "tremoços", are very popular in bars as a snack while drinking beer.
The best way to eat the yellow beans is to bite off the skin. Only eat the yellow bean... not the skin! 
Sounds stupid but we did not know that at first, but fortunately a few Portuguese people next to us saw that we were doing wrong so they warned us and gave us the advice.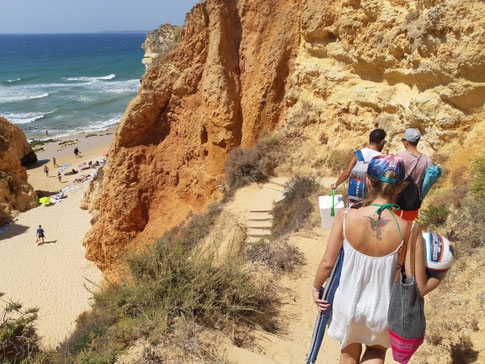 After this great day at the beach we went back to the stay to freshen up. In the evening we went looking for a nice restaurant near our hostel. I know this restaurant by an uber driver with whom I was traveling the day before. He gave us some of advice where we could find nice restaurants and beautiful beaches.
This restaurant was a pure pleasure. I ordered the Cataplana with Monkfish and seafood. it was a specialty and was also served in this way. For a moment I felt as the king because all eyes were on the Monkfish Cataplana.
The unique cataplana is a true symbol of the Algarve's culinary tradition, there are many versions of the cataplana here in the Algarve, but a particularly delicious recipe comprises monkfish, prawns, clams, Portuguese chouriço, and fresh vegetables, all perfectly seasoned. The dish can be made with alternative ingredients, such as octopus, cod, clams and prawns or even meat added like bacon. The ideal accompaniment is always a good white or green wine !
Meanwhile, I have discovered many other restaurants on my holiday. And believe me you can eat incredibly well for pretty cheap prices.
There was even an restaurant that sold the popular dish Chicken piri-piri for 6,50 euro.
In addition, a number of large beers with a shared bowl of Sangria and in total we lost 12 euros per person! whut? Well if you come from the Netherlands this is super cheap!
The owner told us that they had a secret recipe for the Sangria and that this is the best in town. I don't know if this is true and I think the secret ingredient was the whole banana. It looked a bit strange but it was definitely a good sangria!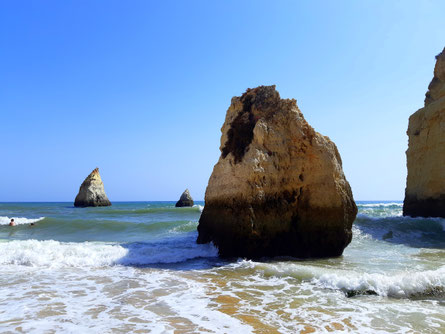 Some beaches that are great to visit while in Portugal Algarve !
Praia da Ponta Pequena
Praia da Ponta Grande
Praia de São Rafael
Praia de Arrifes
Praia da Coelha
Praia do Castelo
Praia do Arrifão
Praia dos Pescadores
Praia do Ninho de Andorinha
After some evenings we went with a group from the hostel to the sea for a night swim. it was a bit cold in the beginnning but so much fun! It was just with the swimsuit, no skinny dipping ;)
I would never do this night swimming in the Netherlands, but because of the holiday mood it didnt matter anymore.
On the last evening of Portuguese and Italian guy, the Portuguese gave me a great advice to take the lady from Kazachstan to a hidden beach called "Praia do Ninho de Andorinha" 
So the day after I took the advice and took her to this perfect beach. It was not easy to find because there is no official way to lead. So with google maps It was sometimes unclear where to go, it felt like a short adventure.
We asked a random Portuguese guy where to find the place that we encountered along the way. He laught a little and said oh you are looking for the secret beach. Shortly thereafter we had found the breathtaking beach !
Ninho de Andorinha which means "swallow's nest'" is one of the many hidden beaches of the coastline, It lies in a creek of cliffs!
They say It Is only accessible through the sea. But that is not entirely true. We could walk through the top down, It was a very
narrow way down but fine to do when walking slow. The waters here are green and full of pebbles it just looks amazing and it was really relaxed because there were not many people and hardly any tourists.
There is an beautiful arch below the western edge of the cliff that connects the beach with the sea. Plan your visit early, because of the high tie !
It is situated in a narrow cliff corner, hidden from most visitors it is therefore also quiet what can be very nice to relax.
We had some bread and spreads with us and some fresh fruit. and took a swim in the beautiful water!
This was one of the most interesting beaches I have ever seen in Portugal.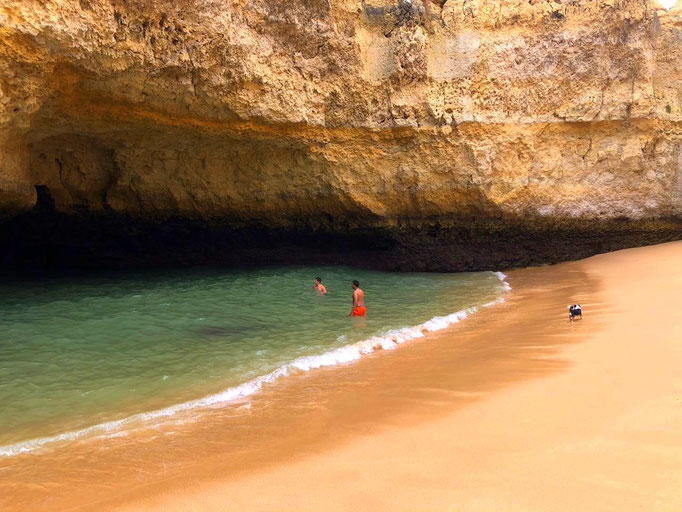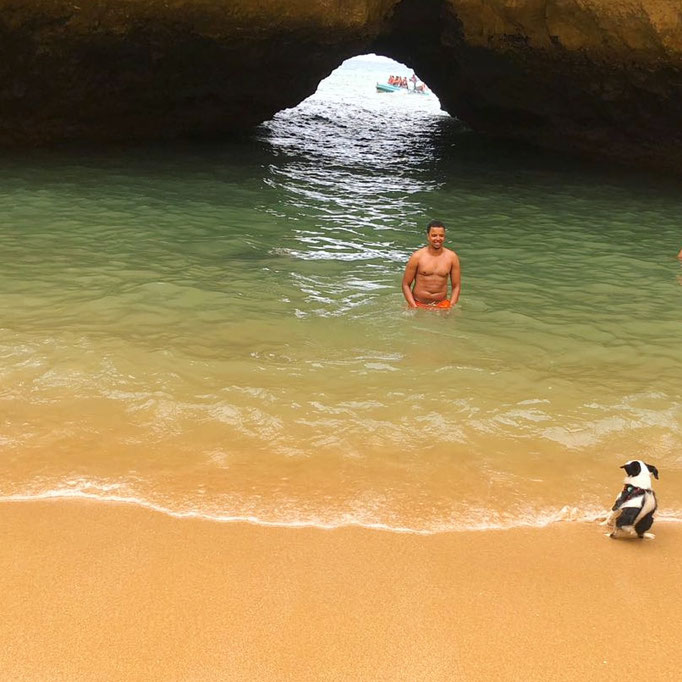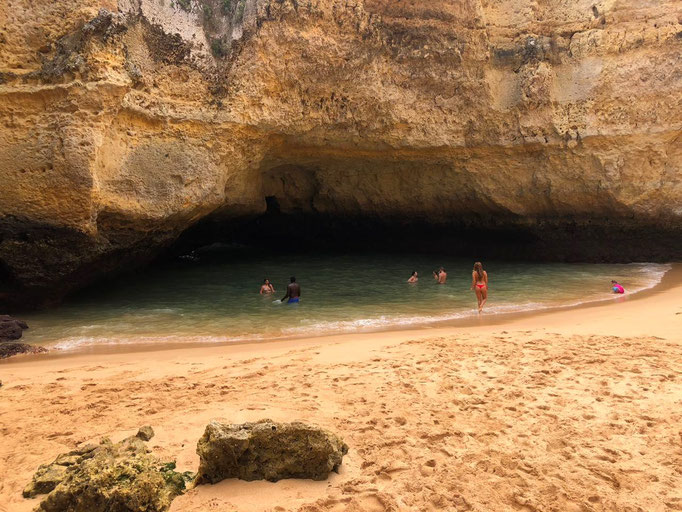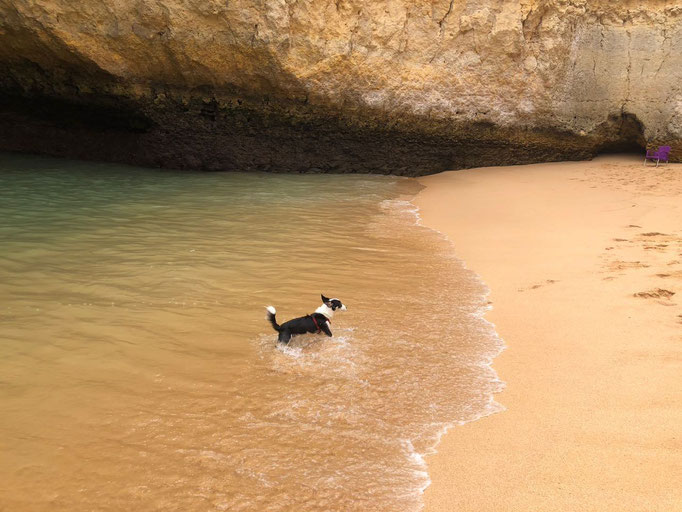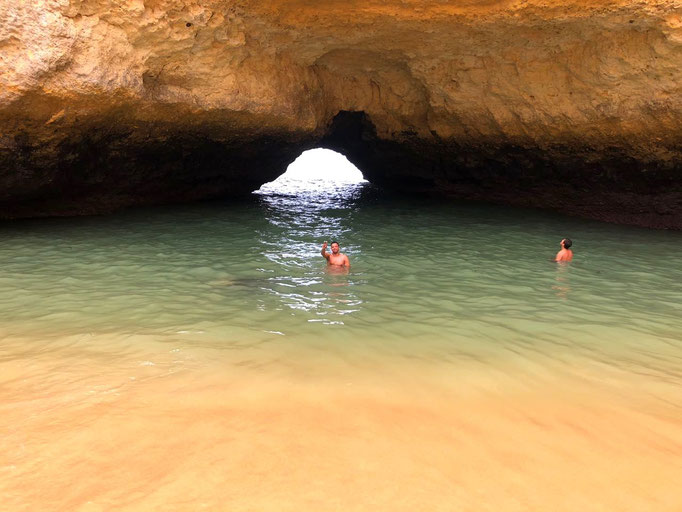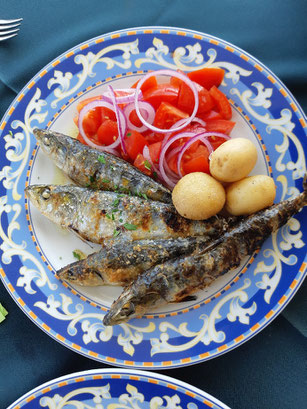 On the last day of her we had gone back to the nice restaurant where I had my Cataplana.
This time we chose the Calamaris and the grilled Sardines for lunch! of course, the big beer also showed up again. I was so glad making this come back ! 
When your going to the Algarve you absolutly try the grilled Sardines, its worth it.
Here some fun facts to know, Sardines are named after Sardinia, the Italian island where large schools of these fish were once found. About 60% of the sardines are fresh in Portugal.
In summer time throughout July and August, during the sardines season, almost every Portuguese city and villages from the North to the South has its own sardine festival.
In the Algarve, places to be are Portimão, where the Festival of Sardinia is usually a hero in the beginning of August, and Olhos de Água.
The most popular way to eat the fish is "Sardinhas Assadas" (grilled sardines, they are offered in most local restaurants mostly with boiled new potatoes.
Sardines are rich in numerous nutrients that have been found to support cardiovascular health. They are one of the most concentrated sources of the omega-3 fatty acid and they're also loaded with protein and essential nutrients like vitamin B12 and selenium. Plus, they've been associated with a number of health benefits, ranging from better bone health to increased weight loss and beyond.                                                                                                                                               
After our lunch we said goodbye because she was leaving for her next adventure in Lisbon.
My little adventure was almost finished so in the night I just hang out in the hostel with the other travellers and went to early to bed.
I had only one day in Albufeira and the next day i went to Faro to catch my plane there !
Faro itself is very quiet, I ate some delicious Pasteis de bacalhau in a cafe with a few beers while waiting for the bus to the airport.
The city is easily accessible with its international airport. The cozy center is surrounded by a city wall there is also a marina that you can hardly overlook. Be sure to visit the Capela dos Ossos, a chapel that is entirely made up of bones and skulls from around 1250 monks.
You can put your lunch together in the Mercado Municipal and walk along the marina. Great for a stopover to explore the city for a day. 
I didn't look around much after one hour in Faro because I had my luggage with me and was too tired to walk. But I have heard that the city has nice authentic streets and plenty of other things worth seeing to fill in your day nicely !
From surfing and sightseeing it was a amazing that I have been able to experience this holiday. Yet I would like to go back again to see more places in the algarve like Sagres and further in the area. Unfortunately, because of the surflessons did not always gave me the time. And must honestly say that I sometimes forgot in which village or place I was. It is ultimately about the beautiful experience, thats the most important thing offcourse. I have met many wonderful people in a short time and have been able to laugh and see a lot !

Memories like this makes me a richer man.