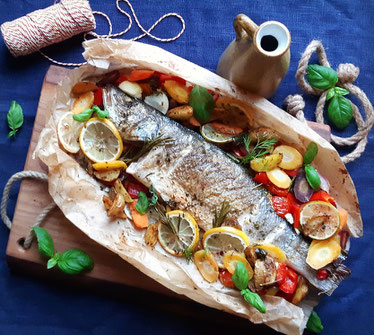 ingrediënts.
1 sea bass.
200 grams potatoes.
3 carrots , yellow, purple, orange.
1 Red paprika.
1/2 leek.
Sweet cherry tomatos.
Dried garlic pepper herbs.
Dried italians herbs.
1 parsley, rosemary, sage, dill
White wine.
1 lemon.
extra virgin olive oil.
salt and pepper.

Preparation. 🔪

Take the already clean fish, rinse it under running water and then dry it with absorbent paper.

Separately, chop parsley, dille, basil, sage, rosemary and store in a bowl.

In the meantime, take the potatoes, rinse them under tap water, dry them and then peel them finely. 

If they are small potatoes, they can be left whole, otherwise, cut into slices or diced, as you prefer.

Take a lemon, wash the peel and slice it. Then put three or four slices into the fish, along with a teaspoon of chopped parsley, salt, oil.

Place the fish on a sheet of baking paper or aluminum large enough and place everything on a baking sheet.

Also put the potatoes, vegetables, lemons and other herbs in baking paper.

Season with a little oil, a pinch of salt and pepper and sprinkle some white wine over the fish and vegetables.

Close the baking paper and bake at 200 degrees for about 45 minutes.

Before serving, check the cooking of fish and vegetables. Once ready, serve hot!