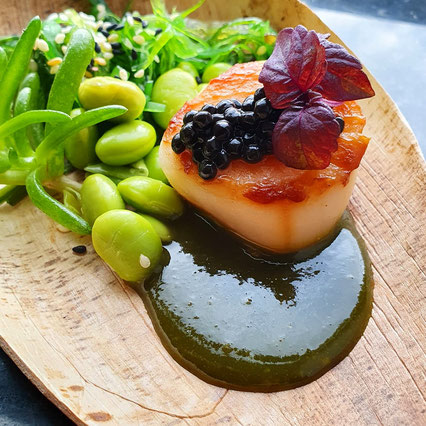 Coquille with Herring caviar in a green garden of Wakame, Edamame, Salty fingers and Green tea matcha sauce.
Personally i really like scallop because it is a very tasty shellfish that has a lot of meat. I grilled them now but fresh scallops of great quality can even be eaten raw.  Here below you can find the recipe!
Ingredients: 
6 Coquille.
1/2 tsp Herring or Salmon caviar.
200 gr Edamame.
200 gr Wakame salad.
Salty fingers (Koppert cress)
Shiso purple (Koppert cress) 
Green tea matcha sauce:
2 tbsp White miso
1 tbsp green tea powder (matcha)
1 tbsp Mirin
How to prepare: 
Wash the coquille with cold water. 
Put a table knife between the two shells and pry open. 
Spoon the scallop from the shell(with care) 
Rinse the scallops briefly under cold running water and pat them dry with kitchen paper. 
Fry the scallops over high heat in a grill pan. 
Use some salt and black pepper. and set aside. 
In a bowl, mix white or brown miso with mirin and green tea powder. 
When everything is ready, put a scoop of wakame salad, edamame and scallop on the plate. finish with caviar, toasted sesame, shiso purple and salty fingers. 
Now its ready to serve!